New Release - March 2017

By Gad, Old Man, You Got Him!
<![if !vml]>

<![endif]>
Serigraph on Acid-Free Paper, Image Dimensions: 8" x 70",
Paper Dimensions: 10.5" x 72.5" with 4-sides deckle.
Limited Edition of 850 Arabic Numbers, 99 Patrons' Collection,
155 Collaborators' Proofs and 5 Hors d'Commerce
Available Now at Opening Price: Call 503-295-4979
<![if !vml]>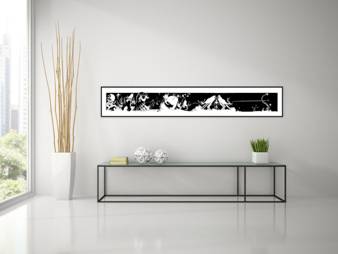 <![endif]>

By Gad, Old Man, You Got Him! appeared as a 4-page spread in the August 1931 issue of College Humor magazine. Ted Geisel (aka Dr. Seuss)
had always commented about the power humor had to cut through in difficult moments and, during the Great Depression, Dr. Seuss's humor
was everywhere. The country needed considerable cheering up and prominent magazines of the day obliged with Ted Geisel
and others who could elicit laughter.
<![if !vml]>
<![endif]><![if !vml]>
<![endif]>
<![if !vml]>
<![endif]>
During the late 1800s, Ted Geisel's grandfather helped found the riflery club in Springfield, Massachusetts.
His father and, surprisingly, his mother were both expert "marksmen." For Ted's it was an all-consuming hobby.
Ted recalled, "I always thought it was silly and unproductive. It was shooting holes in a paper target." However, he embraced the underlying
value of this pursuit, commending his father: "...he was an inspiration. 'Whatever you do,' he taught me, 'do it to perfection.'"
And that he did. Ted was a deft marksman, targeting life's experiences and turning them into universal truths-all within a story line
for us to relate to our own life experiences.
<![if !vml]>
<![endif]>
While it was serious business to be published (it ultimately gave rise to Ted's popularity and helped paved the way for his career as author
and illustrator), Ted always insisted that we should look at life "through the wrong end of the telescope." He seemed to understand that laughter
can transcend any particular time or place and still help to make us smile whenever we need it most.
Eighty-five years later, By Gad seems to prove him right.
Dr. Seuss Properties ™ & © 2016 Dr. Seuss Enterprises, L.P. All Rights Reserved.
Call 503-295-4979 or email info@shafferfineart.com
for price quotes, more information and how to order